Please feel free to print out this original artwork by California artist Pat Ryan (who also did the cover for the Midnight Dread/Rhino release NATTY & NICE) for your CD jewel case of Reggae Celebrates the Detroit Sound.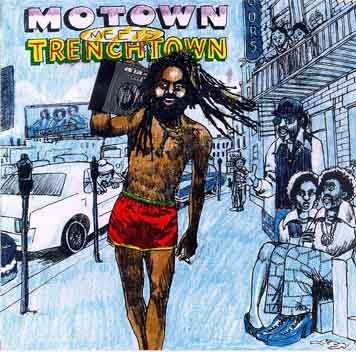 REGGAE CELEBRATES THE DETROIT SOUND (formerly entitled Motown Meets
Trenchtown) was released on Midnight Dread/Pow Wow Records.
Feel free to download Pat Ryan's original demo version of the cover and slip it over Pow Wow's in the jewel case.
Here's Doug's original liner notes:
MOTOWN MEETS TRENCHTOWN- Reggae Does Detroit This is the best of two worlds. The music and beat of Motown and Trenchtown cross-pollinate, forming a lethal combination with these brilliant Detroit compositions redone reggae style. Trenchtown is a famous area in Kingston, Jamaica, the birthplace of reggae. At the corner of Rhythm and Reggae where Motown Meets Trenchtown, the traffic is dreadlocked when the backbeat seconds that emotion first heard in the 1960s.
An offshoot of my long-running commercial radio reggae program MIDNIGHT DREAD, Motown Meets Trenchtown is a highly popular special that always brings new people into reggae's tent. Reggae musicians in Jamaica and elsewhere have probably covered more Motown hits than any other single style of soul music. The affinity between the two styles of music grew as reggae exploded during Motown's psychedelic period. With Trenchtown's influence spreading world-wide even Detroit started having some reggaefied hits ("Boogie On Reggae Woman", "Masterblaster (Jammin')", "Sexual Healing", "Sela" & others). And while The Temptations were skanking in their psychedelic shack Jamaicans were on cloud nine inventing their own stripped down drum & bass brew called "dub".
On these tracks you'll hear familiar melodies freshly re-invigorated. arranged, and sometimes extended with a dose of dub or the talk-over of a "DJ" (the Jamaican term for those who rap over a rhythm). No one can resist this crucial combination of the world's most loved music, soul and reggae, as Motown Meets Trenchtown. -Doug Wendt, Producer, Midnight Dread Records
(Doug Wendt began his reggae radio career in the bay area, helping pioneer the form in the 70s and branching off to worldbeat and 3-screen video presentations in the 80s and 90s. He continues to expose great music through MIDNIGHT DREAD releases, radio shows, club play , video programs and this site on the www.)
REGGAE CELEBRATES THE DETROIT SOUND track listing
1-Blue Riddim Band "Come See About Me"
2-Lloyd Parks, We The People & U. Brown "Reach Out (I'll Be There)"
3-Junior English "Tears Of A Clown"
4-J.C. Lodge "You Can't Hurry Love"
5-The Pioneers "Papa Was A Rolling Stone"
6-Delroy Wilson "This Old Heart Of Mine"
7-The Tamlins "Food For Thought" (with Sly & Robbie)
8-Panache Culture "Past Time Paradise"
9-Judy Mowatt "Stop In The Name Of Love"
10-Sister Carol "Can't Stop Reggae" ("Message From A Blackman")
11-Winston Groovy "Nightshift"