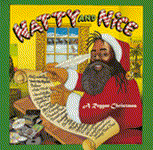 Lee Perry's crossover/radio mix of "Merry Christmas, Happy New Year" is only available on cd on MIDNIGHT DREAD's all-time holiday compilation NATTY & NICE.
NATTY & NICE A Reggae Christmas was available at Rhino online. Midnight Dread takes you to the islands every holiday season with "Natty & Nice" A Reggae Christmas.

TRACK LISTING
1- Merry Christmas, Happy New Year (The Crossover/Radio Mix) -- Lee Perry, featuring Sandra Robinson
2- Happy Christmas -- Toots & The Maytals
3- Rudolf The Reggae Reindeer -- Bolivar
4- Happy Xmas (War Is Over) -- John Holt
5- Wish You A Merry Christmas -- Jacob Miller
6- Santa Claus Is Skaing To Town -- Granville Williams Orchestra
7- Happiness -- N.T. Washington
8- Happy Christmas -- Washington & Clarke
9- I Saw Mommy Kissing Santa Claus -- Johnny Clarke
10- Love Child -- Kiddus I
11- Merry Christmas -- The Kingstonians
12- All I Want For Christmas -- Ini Kamoze
13- Merry, Merry Christmas -- Alton Ellis & The I Listicks
14- Ding Dong Bell -- The Ethiopians
15- Brave Bells/Scot The Brave -- The Trojans
16- Gee Whiz It's Christmas -- Frankie Paul
17- The Christmas Song -- Beres Hammond
18- Have A Happy Christmas -- Heavy Beat Crew: Jimmy Riley, Tyrone Taylor, Hopeton Lindo, Michelle Lindo & Kashchief Lindo




The 18 tracks on NATTY & NICE feature many of the top reggae stars. These selections by producer Doug Wendt show the depth of warmth, talent and richness in Jamaican music. Further, The NATTY & NICE liner notes- a rememberance of Christmas time in Jamaica- were penned by Phil Chen- who has played bass with Bob Marley and Jimmy Cliff as well as rock noteables Eric Clapton and John Fogerty. The result is a refreshing look at the Jamaican people's" Yule-tide spirit". Where the warm breezes sway the Christmas lights on the palm tree and the sound system plays in the hearth.

This is the first release ever on Midnight Dread. As producer Doug Wendt writes in the liner notes: "In the spirit of incongruity that brought us the Jamaican bobsled team, here's a fantastic collection of Christmas music from the tropics. It was this irony that first attracted me to holiday season reggae. Christmas is a big deal on the Caribbean island that brought us Rastafarianism, and even though not all reggae artists are Rastas, the sight of devout dreadlocked ones singing songs of Christain cheer seems... well, unusual. This compilation is a spin-off of my long-running commercial reggae radio show MIDNIGHT DREAD and many custom Christmas cassettes made for family and friends. These excellent tracks cover the best of more than 30 years of natty & nice reggae and ska." It's received favorable reviews in ENTERTAINMENT WEEKLY, THE WASHINGTON POST, CMJ, BEAT MAGAZINE, FULL WATTS and many other places. Mick Sleeper's Lee Perry web-site put it in his Top Ten and Swedish National Radio placed it in heavy play. Midnight Dread's second release (this time through Pow Wow Records) Motown Meets Trenchtown or REGGAE CELEBRATES THE DETROIT SOUND is also available now.