Lee "Scratch" Perry Upset In The Making

The Upsetter Live in Amsterdam - photo -Robert Fineman
Lee Perry's crossover/radio mix of "Merry Christmas, Happy New Year" is only
available on cd on MIDNIGHT DREAD's all-time holiday compilation NATTY & NICE.
Doug's 1982 interview with Lee Perry at Black Ark Studios as broadcast on Midnight Dread
(available on cd for $10 postpaid through our store) begins thusly: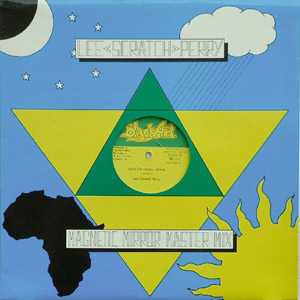 Lee Perry's "Bafflin' Smoke Signal"/"Captive"
Available on a mint condition 12" Black Art single from Amsterdam recorded at the Black Ark in Kingston, Jamaica with a special Magnetic Mirror Master Mix color sleeve
This is Scratch's rare extended mix since it's slightly longer than the version on Heartbeat's new cd and this original 12" pressing has no fade! It's Perry's infamous take on how the Vatican signals they have chosen a new Pope by sending different shades of smoke over Vatican City. The flipside, "Captive", features another amazing rare song. It's Lee's lament that everyone's basically just a prisoner.

From the BEAT magazine review by Chuck Foster of the shorter version on the recent Heartbeat cd of the same name: "It would be hard to time a release better than Heartbeat did with BAFFLING SMOKE SIGNAL from the often-baffling Lee Perry, with all the controversy swirling around the Catholic Church and its apparent army of pedophile priests and with Pope John Paul II floating a retirement plan and nodding on the throne as if he can't wait for the smoke to rise again. The gem of a title track formerly available only as a scarce and long out-of-print 12" is a hilarious musical documentary and one of Perry's earlier multi-tracked vocals (a style he perfected in later years). It explores in detail the strange goings-on when, as the current Pope was picked, the white smoke belching from the Vatican that was to have signaled his selection turned black."

This fantastic foot long forty-five is one of Scratch's last recordings before the demise of the Black Ark in Washington Gardens, Kingston Jamaica.
$92.29 plus shipping also now in our store.
Get one before they haffe select another Pope!
E-mail: midnightdread@gmail.com