Time is measured from midnight, not daylight!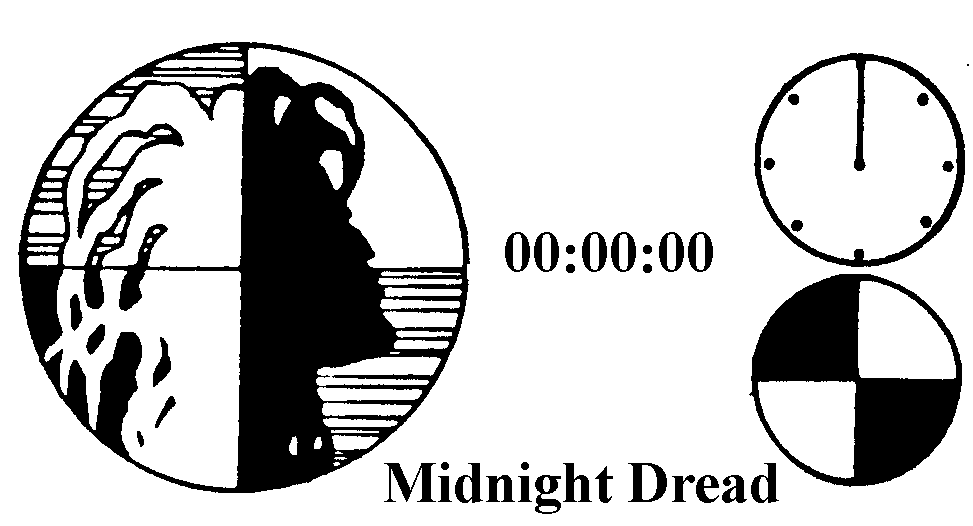 Upsolute Upsetter
by Doug Wendt
Known variously as Little, Scratch, Doctor Dick, King Perry, The Upsetter, Wondermon, Super Ape, Tic Tac Teac, Pipecock Jaxson & Jah X is Lee Perry, the man with so many aliases he's become a dub slinging outlaw from one of his own late-sixties spaghetti-western inspired instrumentals. In fact Scratch seems to have a name for every phase in his beyond all boundaries career. One thing remains constant throughout his 35 years of Jamaican musical history, Lee Perry stays years ahead in concept & production, always at the cutting edge where new rhythms & techniques influence all posses.
While other producers milk a new sound until it is utterly parched, often times belittling the music with gross attempts at cross-over appeal, Scratch resists those temptations by striving forward, forever pushing limits & limiters, pinning V.U. meters, tweaking tweeters, barking down woofers & phasing every track in sight. He ruthlessly sets near impossible standards of creative genius that never look back. His distinctive sound envelope engorges every frequency, twists and wrings it out until all weak heart harmonics are jettisoned. His mixes spit out venom like the lightning-quick tongue of a croaking lizard, with rough & tough sand paper textures swathed in bubbling rhythms that bound off deep African caverns & drill through the earth, erupting at Perry's self dubbed "Power Plant of Righteousness", The Black Ark Studios of Kingston Jamaica.
Recently, Lee Perry talked to me at The Black Ark about his cosmology & life: "I don't guess, I talk straight & I don't think when I 'm talking because I never lie. Whenever I stomp my foot something goes wrong somewhere if the people are not together.

People call me Jah X. Jah X means the Xecutor of wrong and the declarator of righteousness in so many forms a man could explode. I could explode like dynamite in a world of truth because I art the teacher, I even teach this.
As you can see on the sidewalk there I draw a cut glass King Scratch with a pyramid. That means I am the king of the road. I control the atlas road map cause the breath of life is my teacher."
Scratch referred to his studio as the Ark of the Covenant & himself as the godfather of drum & bass. Then he pointed to countless piles of master tapes stacked against the walls & said, "These are the ancient scrolls that conquer everything, even politicians. I don't check for politicians. I call them governors of wrongs and administrators of crimes. And time & history manifest & record the doom of Babylonian system.
I am a black culture man, super art, supertart, supermind. I think above the ordinary cause I am on an island on the island of gods, Jamaica the head of the globe.
How great thou art Emanuel King Perry! Speaking of the history king that creates music that createth itself. Speaking of the history king that createth words that formeth themselves & open the public eye to the public truth. I don't have to think or hedge cause I keep talking... "
And he keeps chanting, singing and mixing with his main musical instrument the 4-track recorder, Perry's toy, his Excalibur, his time machine that mashes up sound & pulverizes the pulp. This is the key to truth & immortality. Lee Perry got his start in the Jamaican music business at the age of 16 in 1955 with Clemment Dodd's Downbeat sound system. Though at first assigned to rather menial tasks by 1957 "Little" (as he was called due to his short and current 5 foot stature) was actively scouting for hot records to help Downbeat compete amidst the intense sounds system rivalry of the era. When Jamaicans began cutting their own records in 1959 Scratch was helping Dodd audition and even co-producing some of the action. Perry convinced Dodd to sign Toots (of the Maytals) and worked on his first single "6 and 7 Books". Despite the continuing rivalry between all Jamaican producers Dodd admitted recently that Scratch is a hard worker who mixed, engineered and arranged many of the records released on Dodd's Studio One label in the 60's.
Perry cut many solo singles as a singer at Studio One which were released in the 60's on Island or Ska Beat Records in England. Some of the titles include, "Prince in the Back/Don't Copy", "Never Get Weary", "Mad Head", "Wishes of the Wicked" and "Please Don't Go" done with the Soulettes featuring Rita Marley. Lee even did some lead singing with the Wailers ( Bob, Bunny & Peter ) doing back up vocals on records like "Pussy Galore". His nickname 'Scratch' came into use after he cut a memorable vocal version of a popular "chicken scratch" dance tune.
By 1968 Scratch was fed up & upset with his business dealings at Studio One. He began working with other producers like Joe Gibbs, Clancy Eccles & Byron Lee & started producing himself. Though he has said that, " Studio One was like going to college for me, an apprenticeship....", he still unleashed a revengeful series of remarkable 45s that openly critiqued his "unfair financial relationship" with Dodd. These included, "The Upsetter", "Run for Cover", "Too Gravilicious", & the best of the lot "People Funny Boy" which not only popped the gear into reggae before anyone else, it also sold so well that Scratch was able to start his own studio & Upsetter label. With the addition of Aston and Carlton Barrett ( then known as the Hippy Boys ) as his resident thunderers of bass and drum and Scratch's own pioneering in early dub techniques developed at Studio One & with King Tubby now well-honed the stage was set for his innovative work with the Wailers.
Bob Marley, Peter Tosh & Bunny Livingstone met the Barrett brothers at Scratch's studio & together they forged new sound elements so eerie & hypnotic that their musical magnetism has never decayed. The resulting albums, SOUL REBELS & AFRICAN HERBSMAN (also known under various other titles) stand firm as what many consider to be quintessential reggae records.

Marley continued to work with Lee throughout the 70s. Most memorable were the Scratch produced & often co-written Jamaican singles "Jah Live" (which brought Bob and the I-threes together on record for the first time), the 17 minute 12 inch "Punky Reggae Party" (of which the Black Art version is most rare), "Blackman Redemption", "Smile Jamaica" and "Rastaman Live Up". Many other Marley/Perry collaborations remain in the vaults waiting for time to catch up with them.
As the 60s ended & the new decade began many other talents in Jamaica began seeking out Scratch's hand when word spread of his rising international recognition through his work with The Wailers & his own string of instrumental hits in England like "Return of Django" & "Live Injection". The roster of Lee Perry produced artists grew to include Delroy Wilson, Jr. Byles, Errol Dunkley, The Silvertones, U Roy, I Roy, Big Youth, Dennis Alcapone, Dillinger, Dr. Alimantado, Jr. Delgado, The Mighty Diamonds & Gregory Isaacs amongst many others. His solo releases continued unabated during this period, from "Jungle Lion" & "Upsetting Station" to "Bathroom Skank" & "Labrish" (with Bunny Lee & Perry bemoaning the producers' perennial bad rap from artists) & Scratch stayed on top, ready to "Bury The Razor".
Between '72 & '74 work was completed on Perry's legendary studio, The Black Ark, from which he would attempt to hijack earth later in the decade. His Jamaican records were now being released on several of his own labels including Upsetter, Orchid, Justice League, Black Art & Black Ark. From the Ark, he would produce a series of albums that would be among the best ever created in reggae. Many of these were released on Island or Mango Records internationally & included The Heptones' PARTY TIME, The Congos' HEART OF THE CONGOS, Max Romeo's WAR INNA BABYLON, Junior Murvin's POLICE & THIEVES, Jah Lion's COLUMBIA COLLIE, George Faith's TO BE A LOVER, Prince Jazzbo's ITAL CORNER and Perry's own piece de resistance SUPERAPE.
In the mid-seventies Lee Perry was the most prolific & sought after producer on the island. Junior Murvin's seminal classic "Police & Thieves" just wouldn't have been the same without Scratch's raving mix. The rhythm proved so timeless and popular that Perry spun it off into his own classic & arguably best track ever "Dreadlocks In Moonlight" (also known as "Big Necked Police"). Jah Lion toasted the track as "Soldier And Police War", Glenn Dacosta overdubbed his sizzling saxophone onto "Magic Touch" and Junior Murvin did alternate lyrics for "Bad Weed" & "Philistines On The Land" in which the latter enlarged upon the ghetto theme & took the song into worldwide reference with the refrain: 'Philistines are crawling on the land, scaring the nations with their nuclear weapons, scaring the nations to pay for protection....'
Lion Zion, a Jamaican who lived in the bay area in the mid- 70's, returned home to create REGGAE IN AMERICA with Scratch. With stunning songs like "Who Killed the Buffalo", "Gas Guzzler" and "American Revolution" REGGAE IN AMERICA represents dozens of projects that Scratch had his hand in that are also hard to find.
By 1978 Scratch had released two eclectic albums of his own material which represented the crowning glory of his years of experimentation at the Black Ark. Filled with wonderfully wild effects, Scratch's propensity for punning & his no-holds-barred look at all of Jamaican society, the two LPs, ROAST FISH, COLLIE WEED, & CORNBREAD and RETURN OF THE SUPERAPE, were Perry's masterpieces though not widely recognized as such at the time.
At about the same time Lee released a series of Disco Bum "Upsetter 12" singles that truly measure up to the overused word awesome. "Bionic Rats", "Disco Devil" & "Baffling Smoke Signal" were pure Perry genius with dub sections that subdivided & conquered. Another 12"er, "Free The Prisoners" was even released at 40 rpm so that it could be played back at 33 or 45 for a slow or fast tempo, at once avant garde & unfathomable.
Perry's disappointment with the reception & payment accorded to his new works proved overwhelming, though by now he had worked with musicians as famous & diverse as Paul McCartney & The Clash, Scratch felt unappreciated & cheated, He 'cleansed' his studio of all vampires. He destroyed a lot of his own equipment & quit producing rather than continue being ripped off. After putting the Ark into neutral he released a few haphazard recordings with backing from G.T. Moore and two New York Ska bands, The Terrorists & The Majestics. While bootlegs of his material topped charts, Scratch has continued to produce top-flight material with crucial cohorts Adrian Sherwood and the Mad Professor. He has even released excellent albums for old labels including Mango and Trojan.
His mid-nineties box set ARKOLOGY reintroduced him while confirming his genius. THE COMPLETE WAILERS 1967-1972 Part II, THE UPSETTER SINGLES COLLECTION Volumes I & II, the semi-bootleg TREASURES OF THE LOST ARK, and numerous killer compilations for Heartbeat including UPSETTER IN DUB and UPSETTER SHOP Volume II continue to amaze and reveal more wealth from the master. His song "Merry Christmas, Happy New Year (Ring the Armagideon In)" is the song for the upcoming Y2K New Year's celebrations and is available on Midnight Dread / Rhino Record's NATTY AND NICE A Reggae Christmas. This rare "Crossover / Radio Mix" is only available on this CD.
From "Rub & Squeeze", an early Ska vocal through the roaring effects of "Freak Out Skank" and the aggressive angst of "The Thanks We Get" on through the vital selections on these albums 'Little' Lee remains a giant amongst saplings. Scratch has proven time and time again that he is The Upsetter, a stepping razor who has cut himself a niche in reggae so huge that any eccentric boast seems modest.
please do not reprint with out permision