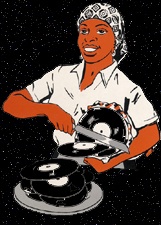 GIVE US THIS DAY OUR DAILY DREAD
Welcome to Midnight Dread's page of premiums, playlists, recent news, and archived info:


Crucial music heard via Reggae MD and various DW World Beat events & programs:

- The Wailers THE CAPITOL SESSION '73
- The Specials PROTEST SONGS 1924-2012
- Taj Weekes PAUSE
- Rusty Zinn SINGS HONEYBOY CLASSICS
- PUTUMAYO WORLD CAFE
- Sly & Robbie vs Roots Radics THE FINAL BATTLE
- Dobet Gnahore COULEUR
- UB40 BIGGA BAGGARIDDIM
- Akae Beka POLARITIES
- Jimmy Foot INVISIBLE and LIVING 3 LIVES
- Various SATTA MASSAGANA REBIRTH RIDDIM
- DAB (David Asher Band) D.A.B.
- Alborosie FOR THE CULTURE
- Lee Perry BLACK ART FROM THE BLACK ARK
- Horace Andy BROKEN BEATS 2
- Rebelution IN THE MOMENT
- Lee Perry ROAST FISH COLLIE WEED & CORNBREAD remaster
- Marcia Griffiths TIMELESS
- Perfect Giddimani ROAD TRIPP
- Corey Harris GREENS FROM THE GARDEN
- Ras Teo CELESTIAL ROCKERS
- Niceness REALIZE
- Dubndope IMANI
- Bob Dylan JOKERMAN Dr. Dread remix
- GREEN LION CREW MEETS ADDIS PABLO & FRIENDS UPTOWN
- Various TREE OF LIFE
- Anicia Banks UP FRONT
- Mexican Dubwiser IN DUB
- Alborosie BACK-A-YARD DUB
- Lee Groves DANCE A DUB
- Ginjah MR. REGGAE SOUL MAN
- Indubious THE BRIDGE
- Various ZIK ZAK
- Wailing Souls BACK A YARD
- Dubinator CHASE THE DEVIL
- Various DEMOCRACY RIDDIM
- Various BETTER MUST COME RIDDIM
- Rocky Dawuni VOICE OF BUNBON VOL. 1
- Toots & The Maytals GOT TO BE TOUGH
- Marty Dead POSITIVE PEOPLE
- Highest Conspiracy MUSIC IS THE MEDICINE
- Roots & Tings ALL OF THIS
- Beach Boys FEEL FLOWS box set
- Paul Zarzysk STEERING WITH MY KNEES
- Doug Wendt GHOST TOWN SOUND
- Putumayo presents YOGA DREAMLAND
*Jah DJs DJ Jah!*

A Treaure Trove of MD posts on FB here! Please join and like.

Previously posted here:

The Rex Foundation has announced Doug Wendt given the 2015 Ralph J. Gleason Award "in recognition of your work in bringing Reggae and World Beat music to the American public throughout your storied career as host, producer, journalist, DJ, VJ and promoter of that genre. The Ralph J. Gleason Award is in memory of music journalist Ralph J. Gleason, a major figure in the advancement of music in America in the 1960s, whose openness to new music and ideas transcended differences between generations and styles." Doug gives thanks! This will help support further MD archiving and other projects like the premiums available to all at the top of this page.

A new Midnight Dread Store opened online March 15, 2014.

Now on Mixcloud fresh Reggae MD programs - 2018 & 2015 radiograms via Midnight Dread whose reggae channel on radioIO ruled 2014.

Reggae MD Listening Party playlists & listener's posts here: September 2014, August 2014, July 2014, June 2014, May 2014, and April 2014
Doug's station officially launched March 3rd, 2014 with the Mikey Dread classic showcase production, the mighty Earl Sixteen's depth charged "Reggae Sound".

Midnight Raver blog's Midnight Dread page officially began midnight January 1st, 2013 with an uncovered Midnight Dread custom-made Edward II "Real World" video from his Kennel Club productions.

Now on Mixcloud Midnight Dread's 1979-1981 KTIM shows and several other special Doug Wendt mixes on his other Mixcloud page.

Midnight Dread & Midnight Raver blog have partnered & been sharing gems together like these:
The November 1987 Pulse! MD column & review of Peter Tosh's last album,
Bob Marley's 'Rastaman Rocks Penn Hall' 1979 Philadelphia review/pix,
Doug's uncut Lee 'Scratch' Perry High Times interview,
Wendt's Pablo Moses July 1984 Pulse! interview,
a July '91 review of LKJ, Muta, Cutty Ranks,
plus Doug's LKJ & Dennis Bovell interview.

Midnight Dread has returned to the Bay Area broadcasting nightly, streaming every day of the year with fresh programs like this all killer, no filler debut.

We've scanned & posted many vintage Press Clippings on Midnight Dread & World Beat with more on the way.

The premiere 1979 Midnight Dread radio show is now available on Mixcloud.

Several radio shows from Spring 2012 by Doug for World One now streaming globally, broadcasting daily around the San Francisco Bay Area rim, with a couple from Winter 2012 you can also listen to here: More 1960's gems, Program Number 52, Best Of All Worlds, Program Number 46, and Ghost Town Sound #8, Program Number 51. Niceness.

Ghost Town Sound played at the 2nd Annual MISSOURI RIVER MUSIC FESTIVAL Saturday Sept. 3rd in Lakeside on Hauser, MT. We played at the Great Falls Library's free Summer Music Series August 16th for a big enthusiastic crowd. Doug DJed Ghost Town Sound style for REGGAE AT THE LAKE Saturday July 23rd at Kim's Marina & Resort, Canyon Ferry, MT & at Chubby's in Clancy, MT on May 13th, both shows with COEXISTENCE, Helena's smokin' new reggae outfit.

Here's a recent half-hour Montana Public Radio "Open Mic" show featuring Ghost Town Sound; half music, half talk; all wild west native reggae! Rope in.

Ghost Town Sound appears at the top of the hour routinely in this Sonic Radio Station ID currently airing on KGLT thanks to human didgeridoo Coyotemon & producer Lara Vaienti.

28 years ago MIDNIGHT DREAD began its first year on the Quake, KQAK, San Francisco. Feel the MD vibes circa 1984 in this new epistle from Dreadstock's John Josselson who confirms the magnetic power of the back-in-the-day reggae sounds.

Here are the lists of my fave cds of 2011 and those of 2010 with many releases not found on nearly anyone else's because Midnight Dread goes DEEP!

New dvds and cds plus free shipping now in this website's revamped easy to use Online MidnightDread.com store with unique items found nowhere else, sample sound clips and the Deluxe Edition of DEEP WORD DUB!

Watch these just uncorked crucial videos with audio Live at the Round Dance from Ghost Town Sound including "American Ghost Town", "Ohtahku" & "Gary Fox (MC)" with bonus videos on the store's disc version.

Midnight Dread's Ghost Town Sound Ustream channel made its world-wide debut Christmas Eve '10 in a simulcast with The Sleeping Lady in Fairfax, California. Look for ongoing live & recorded broadcasts in all MD styles there.

Please consider purchasing items from our brand new Premiums Store to help keep us afloat. Time hard, music harder.

Fellow ghosttowner Jimmy Foot enlisted Doug to do a few vocals for Jimmy's jahsome super skanking Ska Santas cd, the first ever all-ska Christmas album available now. Santa Ska's watching you!

Many recently mastered Midnight Dread programs (playlists from September thru December 1984 just posted here) including '84 in Review and A Reggae Xmas Party plus Doug & Tony Moses' Co-Birthday Fete webcast sampler here from 12/2, plus Earthquake-Lightning-Thunder on 11/25, the last 3 hour and first 4 hour KQAK shows from 11/11 & 11/18/84 respectively as well as a hardball PRE-ELECTION POLITRICKAL SPECIAL, some of its musical politricks telescoped here, plus a very spooky NIGHT OF THE LIVING DREAD special, its Halloweenishness sampled here.

Free online podcasts (webcasts) here of Doug Wendt's recent BEST OF ALL WORLDS radio programs! The ongoing bay area broadcasts are from 9-10:30am weekdays.

Doug's Ghost Town Sound group played for free at the First Friday Artwalk September 3rd in Ohtahku, MT outside Amazing Gallery where Deeling Gregory has her ongoing major art exhibit.

Native Son Rising is in well into production on its fourteenth season. It airs every weekday at 6am on KECG, 11am Wednesdays/around Midnight Saturdays on KGPR. Listen here to one of the new programs or see the new NSR playlists here.

Doug's own award winning films in the Canyon Cinema collection can now be accessed directly on Canyon's new online catalog with recently uncovered descriptions & photos.

Midnight Dread Doug Wendt's Ghost Town Sound opened for Femi Kuti at The Fillmore July 3rd & for David Gans' Dead Dreams project July 8th at Ashkenaz in Berkeley, California where 2 former KFOG 'Adventure Hour' DJs came together with live music.

Five top ranking Ghost Town Sound Radio programs have made their webcast debut here: Rope in Ghost Town Sound Radio where the red, black & white unite!

The 1984-1985 Quake (KQAK) Midnight Dread archive project needs help to make time to finally finish its part of the long term plan to digitize nearly 700 MD reggae radio programs from 1979-2010. KFOG, KTIM, KPFA, KGPR & KECG shows await similar treatment.

An 18 minute Video Session playback of Ghost Town Sound's live appearance at The Dorothy Gopher Memorial Round Dance 10/3/09 featuring native MC Gary Fox and three GTS songs with lyrics & vocals from Doug posting soon at Ghost Town Sound.com

Doug has finished transferring the first ever dvds of his legendary Kennel Club Worldbeat video mixes; would love to get to the other 7 years.

Doug has produced a series of custom-made "best of all worlds" radio programs for World One, which are currently broadcast frequently on KECG in El Cerrito, California on its upgraded transmitter. The improved signal now reaches Marin County as well as more of the East Bay & San Francisco.

A video for Ghost Town Sound's "Otahku" edited by Steven Powell has been released on Vimeo & You Tube. It includes images from Wendt's 1969 16mm film "Ghost Towns & Duppies" & more.

Doug Wendt's liner notes are featured in (Bob Marley) TRIBUTE TO A REGGAE LEGEND released in July 2010 on Putumayo.

Randall Grass' book GREAT SPIRITS: Portraits of Life-Changing World Music Artists is a fantastic look inside the music, lives, inspirations & aspirations of Bob Marley, Nina Simone, Fela Kuti, Augustus Pablo, Sun Ra, The Neville Brothers, Yabby You and more. Absolutely essential reading. Crucial!

Ghost Town Sound appeared October 3rd, 2009 at MT Expo Park for the Dorothy Gopher Memorial Round Dance. An Owl Dance, childrens' circle, & a talk by recently announced candidate for US Congress Melinda Gopher, Dorothy's daughter, were among the many highlights which included several groups of players, singers, and hilarious MC Gary Fox. Hey!

Midnight Dread lists his Most Intense Concert Experiences of All Time on his ghost blog.

Videos that kind of follow along with those shows & MD's story run with the Play All prompt on Ghost Town Sounds first YouTube custom-made playlist.

Photos from the June 5th, 2009 Ghost Town Sound concert now on Facebook and Flicker thru Ghost Town Sound.com.

Don't miss my award-winning16mm film "Up & Atom" when it was shown on Saturday Night Live now on YouTube. "Around The World In 8 Minutes", Doug's music video collage, is still at the top of our home page.

Ghost Town Sound made its Montana debut June 5th '09 with poet Paul Zarzyski slinging words like lead. The show also included recent Ghost Town Sound style paintings by Deeling Gregory and artwork by Steve Powell.

Our NATIVE SON RISING has returned regularly to KGPR every Wednesday at 11am and also airing EVERY day of the year at 6am on KECG, El Cerrito & Berkeley, streaming at www.worldoneradio.org globally. Doug's liner notes in Putumayo's AFRICAN REGGAE cd compilation released January 2009.

Midnight Dread's much talked about, killer Radio Scratch show for November 2007 is archived at upsetter.net! It will eventually be posted here. Plus several brand new NSR programs' playlists are up now including another new Native Son Rising podcast, recorded live in Otahkoo near the iMan Lab, plus check other native radio show streams including this, one of many NSRs recorded live in the Moon of One Hundred Fires at the Paris Gibson Park bandshell.

Massive Midnight Dread merchandise with several designs including "Football Is The Gateway Drug To War" help support this website at FRESH MIDNIGHT DREAD ITEMS GALORE HERE NOW.

Recent Midnight Dread Radio Archive programs' playlists & cds from 1984 including an ace interview with Black Uhuru's Puma Jones now being webcast on this page. Marc Wendt, webmaster of midnightdread.com reviews the Toots & The Maytals performance at The Fillmore on March 23rd, 2006 on Marc's Midday Dread page.

The final Midnight Dread Sound System Reggae On The River highlights cd (from 2005) is now offered in our store. Also up now: The overall MDSS 2005 Reggae On The River set playlists.

A beautiful painting by Brian Morger on the home page for the studios of WNDT Radio anchors webcasts from this site. Sound samples launch off the individual pictures of the exclusive-to-this-website cds seen on our home page and in the store. The wicked worldly Midnight Dread Sound System live in Amsterdam cd, recorded July 2004, is also available.


DOUG WENDT'S GHOST TOWN SOUND & WORLDBEAT
successfully returned to the WORLD ONE FESTIVAL July 3rd & 4th
and appeared at ASHKENAZ in Berkeley July 8th.
as well as THE FILLMORE in San Francisco July 3rd '10.

GHOST TOWN SOUND
featuring Midnight Dread
made its Montana debut June 5th, '09 (details below)
Its world premiere was July 4th 2008 at the
World One Festival, El Cerrito, California.
DJ Doug Wendt's WORLD BEAT also appeared at same festival
Thursday July 3rd & at Club 33 Revolutions that same night.




Watch MD's YouTube Playlist
"What A Way To Go" to "Sweet Light"
my journey from The Man of Constant Sorrow to Worldbeat
based on my life & its 'Most Intense Concerts Ever'

To see Midnight Dread's vintage vinyl auctions when they are active featuring rare Jamaican ska, rock steady & reggae albums; 7 inch, 10 inch, and 12 inch 45rpm singles in vocal, dub, DJ & other styles from Studio One to Lee 'Scratch' Perry; from Channel One to concert posters and beyond

click here for Midnight Dread on eBay!
Midnight Dread Sound System last DJed at Reggae On The River August 5th-7th, 2005 near Redway, California. It was Doug's twentieth straight appearance there (1985-2005), being the first DJ ever to play at the most famous festival in the redwoods. Sets put together by MDSS were played on the main stage for DREADSTOCK 2005 September 24th and 25th, 2005 on the San Francisco Bay in Vallejo, California. Midnight Dread also kept the vibes positive for the main stage at the very first Dreadstock in 2004. It was the "best first year for a festival ever" according to MC Tony Moses and many others in attendance. Thanks to all the artists and vendors. Unity Life Youth Project does a spectacular job of producing the event.


Midnight Dread returned to Fairfax in Marin County, California Saturday September 25th, 2004 at the club called '19 Broadway'. One of his first ever club dates was in Fairfax in 1975. Midnight Dread played at Bitterzoet in Amsterdam with the killer live band Awareness July 20th, 2004 followed up by Midnight Dread Sound System at the 21st Annual Reggae On The River festival (for Midnight Dreads' 19th straight time) in Redway, California August 6th-8th. Complete playlists & highlights of August's Reggae On River Midnight Dread sets on cd are now posted & available thru this site. The cd is in our online store. A 'Midnight Dread Inna Amsterdam, Holland' cd is now in our store.


HEAR MIDNIGHT DREAD ON THE QUAKE AGAIN! See our Radio Archive and On-Line Store for details on cds of these amazing, vintage reggae radio shows. With thousands of radio programs to draw from, hear some great 'sounds of the century' from the archives, on the air and available from this web site now. Almost thirty years ago (after nearly 5 years on KTIM FM in San Rafael, California) MIDNIGHT DREAD began its first year on the Quake, KQAK, San Francisco. See E-pistles & Scat page for the ongoing reverberations. Please share your thoughts through our email address, midnightdread@gmail.com.


For deep overstanding of what's really behind classic, progressive, roots reggae read Helene Lee's amazing book THE FIRST RASTA. It will blow your mind 'bout twenty time.

At the Reggae On The River festivals the Midnight Dread Sound System took turntable technique to even higher heights. Mighty mix cds featuring Midnight Dread's Reggae On The River 2001-2005 Sound System sets' highlights available now for $10 postpaid in our online store where you can find many more exclusive items. Check our recently posted playlists from REGGAE ON THE RIVER for all the crucial selections exposed there and from which the highlights were extracted.
All Killer, No Filler!
The Midnight Dread played El Cerrito's July 3rd-4th World One Festival as GHOST TOWN SOUND, a live amalgam of western/indian/dub styles as well as Djing throughout the day's festivities in 2008, 2010 & 2012. Ghost Town Sound also appeared at The Fillmore & Ashkenaz in 2010. We played several dates over the last several years including great times for three summers most Sundays at the bandshell in Paris Gibson Park plus at Dreadstock, Reggae On The River and being & mixing on the bill with both Carlton Pride Dub Rockers, The Reggae Cowboys and Reggae On The Ranch in Glacier Park, & Miller's Crossing in Last Chance Gulch.

Midnight Dread.com email address: midnightdread@gmail.com Go Deh Dready, Go Deh -MIDNIGHT DREAD